UniFi 802.11b/g/n Indoor Long Range 600ft Access Point
Unified WiFi Management - Scale to Thousands
UniFi is a revolutionary WiFi system which combines carrier class performance, unlimited scalability, disruptive pricing, and a central management controller.
UniFi networks are ideal for WiFi networks where there is a number of APs that share the same configuration, or need to use WPA-Enterprise (RADIUS) authentication. Such networks are common in:
Schools, Universities, etc
Companies
Large buildings (e.g. warehouses, halls, ...)
Hospitals
Internet Cafes
...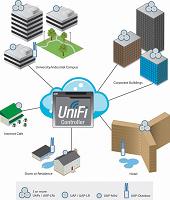 Click to enlarge
---
Ubiquiti UniFi 802.11n MIMO Access Points

These come in a number of varieties:

Indoor Units:

The Indoor UniFi AP (UAP) is an Access Point, capable of 300 Mbps speeds and links of up to 120m. The UAP uses a clean industrial design that seamlessly blends into typical environments. All accessories are included to mount the devices either on a wall or ceiling.
UniFi-Long Range (UAP-LR) Higher power version of the above.
UniFi-Pro (UAP-PRO) Dual Radio (2.4 and 5 GHz) version, with 48V POE and Gigabit ethernet port.

Outdoor Units:

PicoFi This is an Access Point, capable of 150 Mbps speeds and links of up to 120m. All accessories are included to mount the devices either on a wall or pole. It comes with in a weatherproof enclosure thay can be use indoors or outdoors, and a 6 dBi omni antenna. This device is a PicoM2HP loaded with UniFi firmware.
UniFi-Outdoor. This is similar to the RocketM2, and is functionally identical to a UniFi-Long Range (UAP-LR) . Can be combined with Ubiquiti 2.4 GHz MIMO Omni antennas.

Common to All Units: These units feature the latest in WiFi 802.11n technology. Also included is Power Over Ethernet (POE) functionality and power supplies which allows both power and data to be carried over a single Ethernet cable to the device.

UniFi Controller

The UniFi Controller software (included free on CD) gives the system administrator a single graphical interface to manage all UniFi APs. The UniFi Controller software is installed on a Mac or PC, and accessed using a web browser. The UniFi controller allows the administrator to instantly provision thousands of UniFi APs, map out networks, quickly manage system traffic, and further provision individual Unifi AP devices.

Map

Upload map images of your location(s) for a visual representation of your wireless network.

Remote Firmware Upgrade

Save time and effort by remotely upgrading the firmware of your devices.

Guest Portal Support

Easy customisation and advanced options for Guest Portals. With the Guest Portal feature you can:

Prevent access to local LANs (e.g. Internet access only)
Redirect guests to a 'splash page' on 1st access - e.g. a Welcome page
Add password authentication
...

Statistics

UniFi organizes and visualizes your network traffic in clear and easy-to-read graphs.

Access Points

Easily install, configure, and manage all of your access points from one location.

Events & Alerts

UniFi makes it easy to keep track of alerts and recent events on your network(s).

Users & Guests

Keep track and control access of specific users/guests connected to your network(s). One UniFied Network Option to create one large wireless network across multiple APs that lets users seamlessly roam.







---
Real World Results
Here are some reports from real-world installations.
Conference
A single UniFi was placed on a vertical wall between two large lecture theaters at a Queensland University. The back of the UniFi covered one; the front covered the other. The UniFi was wired to a hotspot server. Attendance was around 150 people, and they saw up to 130 leases on the hotspot server at one time! The whole thing worked perfectly, and the organisers were STUNNED at the UniFi coverage.
Factory
A customer installed *one* UniFi in the middle of a drink can container manufacturing factory; 250m by 200m in size, full of machines and electrical noise. Every WiFi client device works *perfectly*. The customer is stunned.
Schools
We have experience with installations of 20, 50, and 100 UniFis with over 700 clients (stations).