This POE Converter is ideal when it is needed to power a Ubiquiti device from a industry standard 48V POE LAN switch.
It converts from:
From: 802.3af (48V) to
To: 24V (or 12V)
Nearly all Ubiquiti devices accept between 12 and 24 VDC input. We recommend using this POE Converter on the 24V setting.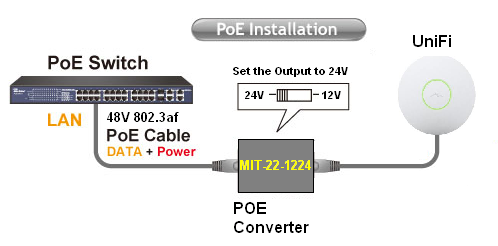 ---
Application
This POE converter should not be used with devices that ship from the factory with POE supplies bigger than 24V @ 0.5A. If you are unsure what power supply is included with a Ubiquiti device, please check the spec sheet for that product.
Do not use with:
PowerBridgeM5. Needs 24V @ 1A.
All Rockets (RocketM2/RocketM5, RocketM9, etc). Needs 24V @ 1A.
All UniFi-Outdoor. Needs 24V @ 1A.
UniFi-Pro. Needs 48V.
NanoBridges. Needs 24 V @ 1A.
LocoM9. Needs 24 V @ 1A.
AirFiber. Needs 48V.
Do use with:
Bullets (all)
PicoStations (all)
NanoStationM2, NanoStationM5
LocoM2, LocoM5
UniFi-Std, UniFi-LR
Specifications